Landing in Cabo San Lucas, Mexico - What to Expect - Updated!
Back

Landing at Los Cabos International Airport in San Jose del Cabo
Flying down to Cabo San Lucas you will most likely land at the large regional airport, Los Cabos International (SJD).
The airport looks new and clean, and seems well-run. There were several people on the plane who needed wheelchairs, and the airport staff was there at the ready in the jet-way. In this way, the airport experience will be familiar to most U.S. and Canadian travelers.
Getting through the airport was a snap; we arrived on a Saturday in October, so not peak season. We didn't wait long at all for our bags or have to wait long at immigration. Time-wise, we landed at 4:45 PM and were driving out of the airport with our limo service by 5:08 PM.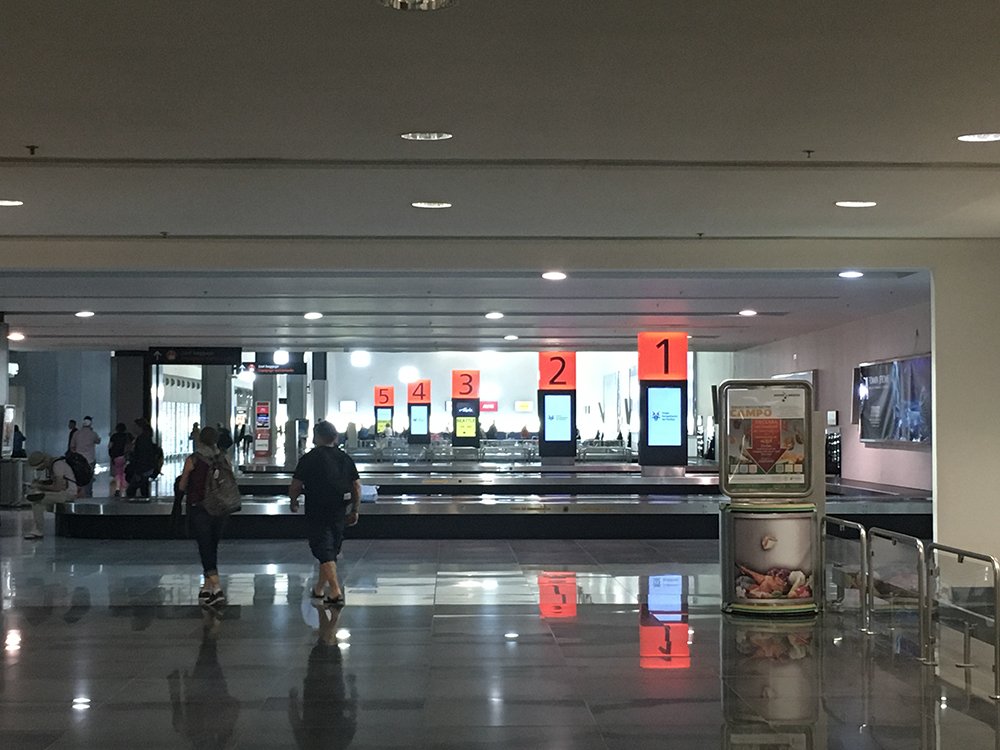 Tequila Tasting - Duty Free
You'll know you're in Mexico because the duty free shop in the baggage claim area has a tequila tasting table, so if you're ready to hit the ground partying, you'll be able to sample and purchase essentials before you leave the airport.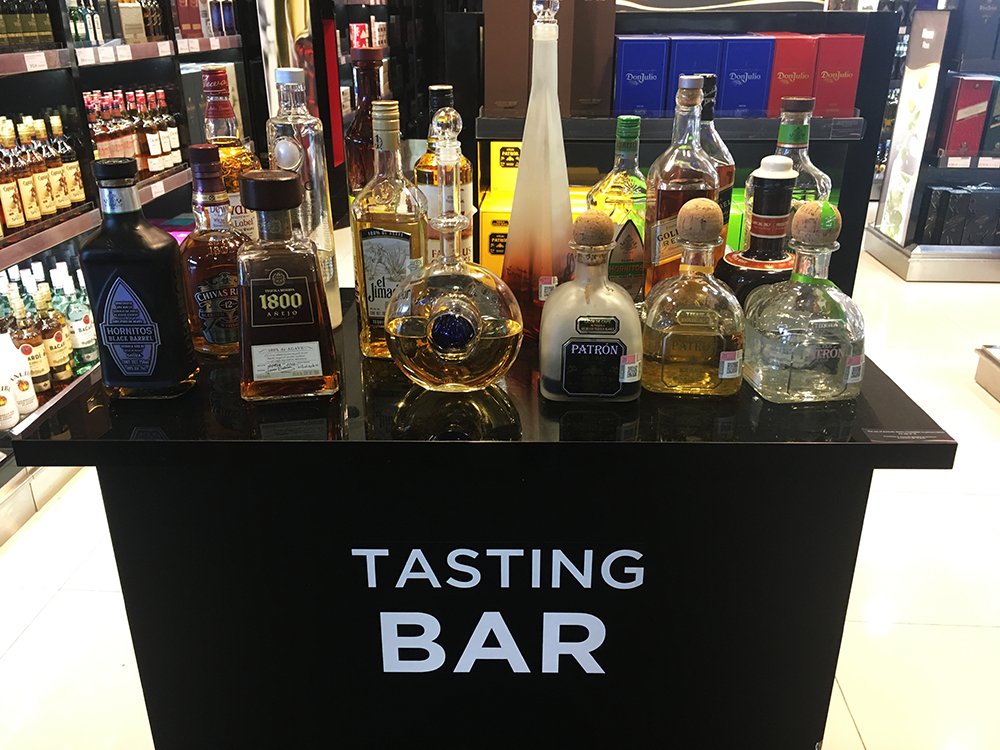 Rental Cars - Cautionary Note
Rental car companies are located right inside the airport terminal. So if you've rented, you can take care of everything right there.
Note – there are lots of fees associated with rental cars in Mexico. You cannot go by the pricing you read on kayak.com or other websites because you need to purchase insurance here – you can opt for just collision, but it's not advised.
At the time of our trip, the total cost of the insurance, damage and liability, ran about $40 U.S. per day. As a reference, we rented a very basic four-door Camry through Avis, which delivered the car to our villa. In total we paid about $90 U.S. per day.
We arranged a private transfer to our villa, Casa Cortez Beach Villa, located in a private neighborhood in San Jose del Cabo, and Avis delivered the car to us the night we arrived – a very nice touch.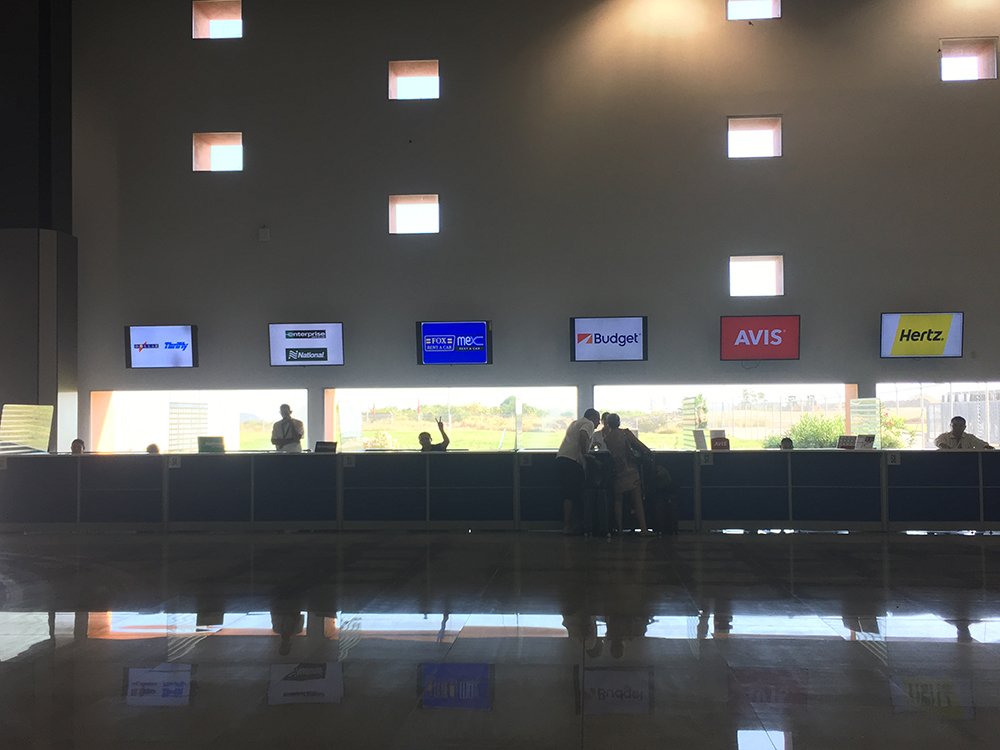 Getting Out of the Airport – Running the Gauntlet of Drivers
Arriving can be a bit overwhelming because of all the people trying to "help" you find your transport. Basically, be ready to assaulted by aggressive drivers looking to give you a ride to your villa or hotel. There are two rooms that you must pass through after customs; one room has a bank of kiosks where those on a vacation package can turn in their airport transfer voucher and be assigned a driver to take them to their resort. We did not do this, but this is how this room was explained to us (please bear that in mind).
Entering the next room, you may encounter very aggressive drivers, who are similar to the ones who lurk outside of the baggage claim areas at JFK – very in your face and definitely trying to take advantage of dazed travelers. But...
IF YOU HAVE A PRIVATE PICK-UP ARRANGED, OR IF YOU JUST WANT TO TAKE A LEGAL TAXI – IGNORE THEM AND WALK OUT OF THE AIRPORT!
Legal taxis will be waiting there as will your reserved driver who should be holding a sign with your name.
Regarding Transfer Companies: we used TransCabo, a reputable service. The ride is about $100 in a large Suburban to car, that can hold up to 5 or 6 people. They were very professional and the car was clean and new. The driver was friendly and gave us cold bottled water the moment we arrived at the car.
Toll Roads vs. "The Scenic Route"
You can take a modern toll road into town or the old non-toll road a.k.a. the scenic route, which will add about five minutes to your ride and brings you through parts of San Jose del Cabo. We took the modern toll road and it was a breeze.
To take the toll road to the coast in San Jose del Cabo, you'll need some cash in hand, Peso or US$, but no cards. The toll road to San Jose del Cabo is around $2.75 U.S. and a little more to Cabo (65 pesos currently exchange as of March 28, 2020 is at around 23 pesos per 1 US$).
Drive Times From the Airport
From the airport to our villa, which was near the Palmilla Resort, was about 20 minutes.
If you drive directly to Cabo, the ride is about 40 minutes.
Exchanging Cash
On exchanging, wait to get into town or just withdraw from an ATM for the best exchange rate, though most places will take US$.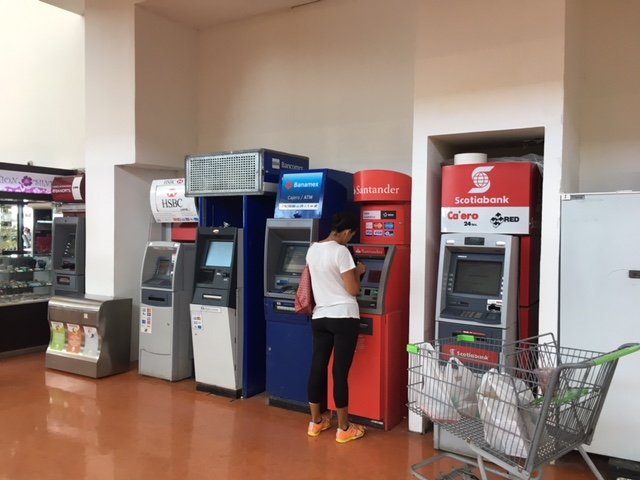 Stores on Way
You can pop into McDonalds or Starbucks along the way to your villa along the Los Cabos Corridor between San Jose del Cabo and Cabo San Lucas.
We atayed at Casa Cortez Beach Villa – this villa is way more impressive than it seems www.ExoticEstates.com. It's a large home in a gated community (24-hour guards) overlooking what is essentially a private beach.
Stock Up at Costco
Bring you Costco card, because you'll want to stock on supplies at Costco on the outskirts of Cabo. We bought tons of food for the eight Exotic Estates team members who would be sharing Casa Cortez.
We bought…
Beverages: two large cases of water, a case of beer, a case of San Pellegrino sodas, juices, a bottle of Don Julio Tequilla, a bottle of wine, Starbucks Coffee (dry)
Food: lots of fruits and veges (you should rinse off veges in general with purified water, though Costco offers many of the same brands that you find in the US including Earthbound Farms), bread and muffins, sliced turkey and cheese, kiwis, apples, oranges and a pineapple, chips and salad dressing. Note – there is no margarita mix or proper salsa available at Costco.
All of this food, which is basically enough for several days of snacks and beverages cost a total of $270 US. The same amount of lunches, snack and drinks at a hotel, would cost you a fortune. Right there, your villa is looking like a smart move.
Also don't forget to sign-up for our Exotic Cabo Villa Escape Sweepstakes for a chance to win a free vacation to gorgeous Casa Cortez!
Blog Subjects: Cabo, Cabo Villas